Every year, the number of books I read, the genres I read the most, and the challenges I pursue change. But one thing remains the same. . .I always forget how freaking long it takes to organize this post.
Beyond the PopSugar challenge I posted already, my other reading goals for 2015 were to read
at least seven books that are either collections of poetry or books about poetry (Done!)
at least one book by a Nobel-prize-winning writer whose work I'm not well-acquainted with (Nadine Gordimer)
two Pulitzer-winning books, at least one of them fiction (This one I didn't manage. I did read two Pulitzer-winning books, but they were both poetry. I'd been trying to finish All the Light We Cannot See since before it won the Pulitzer, but there was a huge hold list for it at the library and I kept having to return it before I was finished.)
literature from South Africa (Africa39, which contained three short stories by South African authors, and July's People by Nadine Gordimer)
literature from Lesotho, focusing particularly (though not exclusively) on work relating to the Zulu people (Chaka by Thomas Mofolo is a fictional retelling of the history of a famous Zulu king)
Fifty books (I'll let you scroll down and see the list for yourself)
Key:
Underline of any color= graphic novel/comic book
1. Watch for the Light: Readings for Advent and Christmas—various authors
2.
The Art of Fielding—Chad Harbach (reread)
3.

The Yiddish Policemen's Union—Michael Chabon
4.
Relish: My Life in the Kitchen—Lucy Kinsley
5.

Ms. Marvel, Vol. 1: No Normal—written by G. Willow Wilson, art by Adrian Alphona
6.

Batgirl, Vol. 1: Silent Running—written by Kelley Puckett and Scott Peterson, art by Damion Scott and Robert Campanella
7.

Bone: The Great Cow Race—Jeff Smith
8.
Fun Home: A Family Tragicomic—Alison Bechdel
9.
In the Open—Beatrix Gates
10.
Behind the Beautiful Forevers—Katherine Boo
11.
Return of the Dapper Men—written by Jim McCann, art by Janet K. Lee
12.

Justice League International, Vol. 2—written by Keith Giffen and J.M. DeMatteis, art by Kevin Maguire and Bill Willingham
13.
Bone: Eyes of the Storm—Jeff Smith
14.

How Mirka Got Her Sword (Hereville #1)—Barry Deutsch
15.

Gaijin: American Prisoner of War—Matt Faulkner
16.
Diadem Me—Bethany Carlson
17.
Shadow Hero—written by Gene Luen Yang, art by Sonny Liew
18.

How Mirka Met a Meteorite (Hereville #2)—Barry Deutsch
19.

Alpha Zulu—Gary Copeland Lilley
20.
Marbles: Mania, Depression, Michelangelo & Me—Ellen Forney
21.
Neurocomic—Dr. Matteo Farinella and Dr. Hana Roš
22.

Batman and Robin, Vol. 3: Death of the Family—written by Peter Tomasi and Scott Snyder; art by Patrick Gleason, Ardian Syaf, Greg Capullo, Mick Gray, Vicente Cifuentes, Keith Champagne, Jonathan Glapion, John Kalisz, FCO Plascencia, etc.
23.
Mister Orange—Truus Matti, trans. from the Dutch by Laura Watkinson
24.
New Covenant Bound—Tony Crunk (reread)
25.
Hawkeye, Vol. 2: Little Hits—written by Matt Fraction; art by David Aja, Steve Lieber, Jesse Hamm, Francesco Francavilla, and Matt Hollingsworth
26.

Runaways, Vol. 1: Pride & Joy—written by Brian K. Vaughan; art by Adrian Alphona, David Newbold, Craig Yeung, Brian Reber, etc.
27.

Bone, Vol. 4: The Dragonslayer—Jeff Smith
28.
At Home: A Short History of Private Life—Bill Bryson
29.
Trillium—Jeff Lemire
30.
Zita the Spacegirl—Ben Hatke
31.
Through the Woods—Emily Carroll
32.
Bone, Vol. 5: Rock Jaw—Master of the Eastern Border—Jeff Smith
33.
Marvel Super Heroes Secret Wars—Jim Shooter (and many others)
34.
Heavenly Bodies—Cynthia Huntington
35.
The Museum of Extraordinary Things—Alice Hoffman
36.
On Gold Mountain—Lisa See
37.
The Thrilling Adventures of Lovelace and Babbage: The (Mostly) True Story of the First Computer—Sydney Padua
38.
Fangirl—Rainbow Rowell
39.
The Worst Hard Time: The Untold Story of Those Who Survived the Great American Dust Bowl—Timothy Egan
40.
In Real Life—written by Cory Doctorow, art by Jen Wang
41.

March, Book 2

—

John Lewis and Andrew Aydin, art by Nate Powell
42.

Leaving Megalopolis—written by Gail Simone, art by J. Calafiore and Jason Wright
43.

Africa39: New Writing from Africa South of the Sahara—edited by Ellah Wakatama Allfrey (three authors from South Africa in collection)
44.
Batman Incorporated, Vol. 2: Gotham's Most Wanted—written by Grant Morrison, Chris Burnham, Joe Keatinge, Mike Raicht, Dan Didio, and Ethan Van Sciver; art by Chris Burnham, Jason Masters, Nathan Fairbairn, Hi-Fi, Andrei Bressan, Jorge Lucas, Ian Hannin, Dave McCraig, Emanuel Simeon, Brett Smith, John Stanisci, Art Lyon, Dan Didio, and Ethan Van Sciver, etc.
45.
Batman and Robin, Vol. 4: Requiem for Damian—written by Peter J. Tomasi; art by Patrick Gleason, Mick Gray, Cliff Richards, Mark Irwin, Marlo Alquiza, John Kalisz, etc.
46.
Delights and Shadows—Ted Kooser
47.
Mink River—Brian Doyle
48.
Diniwe in Dreamland—Desmond Dudwa Phiri
49.
The Cute Girl Network—written by Greg Means and MK Reed, art by Joe Flood
50.
Asterios Polyp—David Mazzucchelli
51.
Stitches—David Small
52.
Cold Mountain—Charles Frazier
53.
The Sculptor—Scott McCloud
54.
Grayson: Agents of Spyral, Vol. 1—written by Tim Seeley and Tom King; Stephen Mooney, Jeromy Cox, Mikel Janín, Guillermo Ortego, Juan Castro, Carlos M. Mangual, etc.
55.

Robot Dreams—Sara Varon
56.

Batman and Robin, Vol. 5: The Big Burn—written by Peter Tomasi, art by Patrick Gleason
57.
Runaways, Vol. 2: Teenage Wasteland—written by Brian K. Vaughan, art by Adrian Alphona
58.
Crashboomlove: A Novel in Verse—Juan Felipe Herrera
59.
Wuthering Heights—Emily Brontë (reread)
60.
Wonder Woman, Vol. 3: The Circle—written by Gail Simone; art by Terry Dodson, Bernard Chang, Ron Randall, and Rachel Dodson
61. Cinder
—Marissa Meyer
62.

The Compleat Terminal City—Dean Motter
63.
Lots of Candles, Plenty of Cake—Anna Quindlen
64.
Griffin and Sabine Trilogy (Griffin & Sabine, Sabine's Journal, and The Golden Mean)—Nick Bancock
65.
Boundaries: When to Say YES, When to Say NO, to Take Control of Your Life—Dr. Henry Cloud and Dr. John Townsend
66.
Gemini—Carol Cassella
67.
Batman Eternal, Vol. 1—written by Scott Snyder, James Tynion IV, John Layman, Ray Fawkes, Tim Seeley, Kyle Higgins; art by Jason Fabock, Dustin Nguyen, Mikel Janin, Guillem March, Ian Bertram, Riccardo Burchielli, Andy Clarke, Trevor McCarthy, Emanuel Simeoni, Derek Fridolfs, Guillermo Ortego, Brad Anderson, John Kalisz, Blond, Jeromy Cox, Tomeu Morey, Guy Major, Dave McCaig, Dave Stewart, etc.
68.

Hawkeye, Vol. 3: L.A. Woman—written by Matt Fraction, art by Annie Wu and Javier Pulido
69.
Chaka—Thomas Mofolo, trans. Daniel P. Kunene
70.

July's People—Nadine Gordimer (Nobel Prize winner)
71.
Absalom! Absalom!—William Faulkner
72.
American Primitive—Mary Oliver (Pulitzer Prize)
73.
The Diary of a Young Girl—Anne Frank, trans. Susan Massotty
74.

The Winter's Tale—William Shakespeare
Or to break it down:
32 works of fiction, 20 of them graphic novels/trade comic collections and 12 works of adult (non-graphic-novel) fiction
19 works of YA or middle-grade fiction, 15 graphic novels/comic collections and 4 novels (although deciding what counted as part of this category was difficult)
9 works of nonfiction, 8 prose and 1 graphic nonfiction
8 works of poetry
5 memoirs (all of them graphic memoirs)
1 play
41 (!) comic collections and graphic novels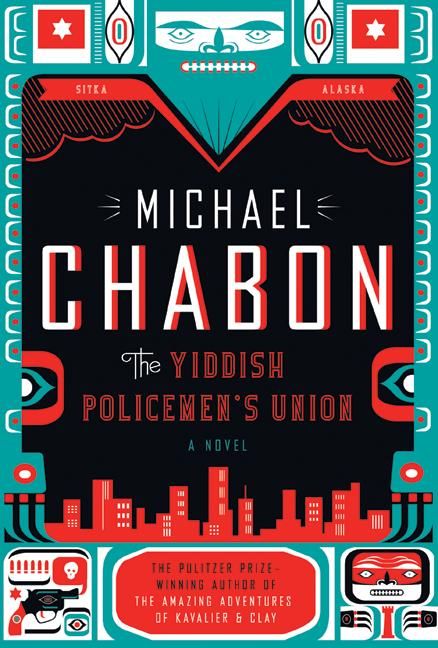 Favorite adult fiction:
The Yiddish Policemen's Union
—Michael Chabon. This isn't much of a surprise to me;
The Amazing Adventures of Kavelier and Clay
is one of my favorite books. I love the playful way Chabon writes complex, verbose sentences, as though he is inviting you into a game rather than simply showing off. It's a murder mystery and a love story and a neo-noir alternative history of the 1980s. What more could you want?
Favorite work of nonfiction:
Boundaries: When to Say YES, When to Say NO, to Take Control of Your Life
—Dr. Henry Cloud and Dr. John Townsend. A lot of the principles in the book weren't new to me (and it does have some of the flavor of a nineties self-book), but I still find myself wanting to hand it out to strangers on the street, like some kind of Oprah of good emotional/spiritual health: "You get good boundaries! And you! And you!"
Favorite poetry:
It's a serious stretch to pick just one. I read a lot volumes this year that I found myself recommending to others, including one by a college classmate (
Diadem Me by Bethany Carlson
). But my favorite was actually an old favorite:
New Covenant Bound
by Tony Crunk. We read it in my book club, and I worried that I might find my enthusiasm for the book had dampened over time. But I loved it every bit as much as the first time.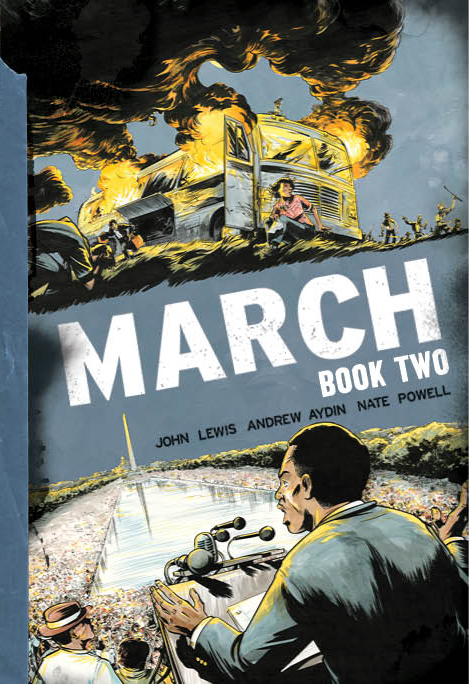 Favorite memoir:
Again, I liked a lot of what I read in this category for 2015 (and I'm not a huge memoir fan—graphic or otherwise). But
March
(John Lewis, Andrew Ayden, and Nate Powell) wins. Don't avoid it just because you think you already know this story.
Favorite YA/middle-grade:
Ms. Marvel, Vol. 1: No Normal.
Origin stories can get repetitive, but G. Willow Wilson handles this one with expert care and humor.
Kamala Khan is a character I feel like I've been subconsciously waiting for. A breath of fresh air.
The contest for my
favorite book read in 2015
ended in a tie.
Asterios Polyp
(
David Mazzucchelli)
is book I shouldn't have liked (an egoistical architectural professor has a midlife crisis) but that I ended up loving. If you think graphic novels can't be pieces of serious literary fiction, you need to read this book. I've never seen every bit of a graphic novel's visual art (lettering, coloring, line thickness, panel-size, etc.) play into the theme and character development quite like this before. Amazing work.
The Thrilling Adventures of Lovelace and Babbage (Sydney Padua) is technically fiction. But it is hands-down the best researched book I read in 2015. It's half footnotes. And the footnotes are delightful. It has all the fun of a steampunk adventure, and Padua's characters leap off the page (sometimes, out of their panels), but you will leave the book remembering more history about Victorian England and the first computer than if you had read a slew of biographies. I highly recommend this graphic novel, even if, like me, you think you aren't that interested technological histories.
Here, I usually list the "other books" I've read: things that were too short (or not "word/narrative heavy enough") to make the previous list. But given the number of individual comic book issues I read in 2015, this list is longer than usual. So I've included it below for consistency's sake, but I'm happy to leave you here. In my next post, I'll probably talk about my reading goals for 2016.
But what were your favorite reads of 2015?
The Power of Shazam! The Arson Fiend, #2—written by Jerry Ordway; art by Peter Krause, Mike Manley, Glen Whitmore, and John Constanza
Power Pack: Star Struck, #58—written by Michael Higgins; art by Tom Morgan, Nel Yomtov, and Joe Rosen
Batman: Legends of the Dark Knight: Infected, Part One

—

Warren Ellis and John McCrea
Batman: Legends of the Dark Knight: Infected, Part Two

—

Warren Ellis and John McCrea
Raising Dion, #1­—written by Dennis Liu; art by Jason Piperberg
The Princess and the Pony—Kate Beaton
Cheetah Can't Lose—Bob Shea
Robin: Buggin', #23—written by Chuck Dixon; art by Aaron Lopresti, Stan Woch, Adrienne Roy, and Tim Harkins
Detective Comics: Rite of Passage: Shadow of the Sun, Part One, #618—written by Alan Grant; art by Norm Breyfogle, Dick Giordano, Adrienne Roy, etc.
World's Finest: Worlds Apart, #1—written by Dave Gibbons; art by Steve Rude, Karl Kesel, and Steve Oliff
Green Lantern: Among My Souvenirs, #4—written by Gerard Jones; art by Pat Broderick, Bruce Patterson, Albert De Guzman, Anthony Tollin, and Kevin Dooley
Showcase 94 (Benedictions—Part 3: Vengeance and Forgiveness; Sparx!: Allure of New Orleans; The Atom: The Uncertainty Principle), #6—written by Chuck Dixon, Karl Kesel, and Len Kaminski; art by Phil Jimenez, Peter Gross, Tom McCraw, Scott Lee, Phil Allen, Brad Vancata, Fred Reyes, Rick Burcheett, Robbie Busch, etc.
Batgirl: Fresh Blood—Part Four, Settling Up, #59—written by Andersen Gabrych; art by Ale Garza, Jesse Delperdang, Wildstorm FX, and Rob Leigh
The Return of Donna Troy: A Golden Age to Conquer, #1—written by Phil Jimenez; art by José Garcia-Lopez, George Pérez, Martin Breccĭa, Nestor Preyra, Lee Loughridge, and Ken Lopez
Power Pack: Whose Power?, #27­—written by Louise Simonson; art by Jon Bogdanove, Al Gordon, Joe Rosen, and Glynis Oliver
Step Aside, Pops: A Hark! a Vagrant Collection—Kate Beaton
Batman: The Cult—Book One: Ordeal—written by Jim Starlin; art by Berni Wrightson, Bill Wray, John Costanza, etc.
Batman: The Cult—Book Two: Capture—written by Jim Starlin; art by Berni Wrightson, Bill Wray, John Costanza, etc.
The SheepOver—John and Jennifer Churchman
Days with Frog and Toad—Arnold Lobel (reread)
Frog and Toad Together—Arnold Lobel (reread)
The Secret Remedy Book—written by Karin Cates, illustrated by Wendy Anderson Halperin (reread)