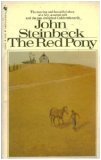 Even when I don't like Steinbeck, I like him. I prefer
The Red Pony
to
The Pearl
, but neither of them are really favorites of mine. (I'm more of an
East of Eden
and
Of Mice and Men
fan.)
However, Steinbeck does "straightforward yet subtle" better than any writer I know. The action doesn't exactly
build
in this collection; each story has it's own moment of crisis, but I loved how Steinbeck's theme of violence and its relationship to "becoming a man" wandered through the stories and sat down at the simple conclusion (though I still felt like I wanted more out of the last story in
The Red Pony
).
My copy of
The Red Pony
tacked the short story "Junius Maltby" (part of
the Pastures of Heaven collection
) to the end: an unusual addition. "Junius Maltby" is a fine story, but it has parable quality that seems at odds with
The Red Pony
's more realistic style. But both of the stories play with the elements of boyhood, and
The Red Pony
is so short that few publishers seem willing to print it alone. (You'll find copies of the
The Red Pony
with
The Pearl
or
Tortilla Flat
on
Amazon
, but very few of just
The Red Pony
.)
I'm surprised that this novella/collection is so frequently assigned in early high school (perhaps because of length and the age of the protagonist?)--I think the ending would have been frustratingly anti-climatic for me at that age. But maybe I'm not giving high schoolers enough credit.
Side Note:
Apparently,
Aaron Copland did the music
for the 1949
movie version
of
The Red Pony
. I don't have much desire to see the movie, but I'd love to hear the soundtrack.