After
my post on Tuesday
, I felt that I ought to give writers from my home state props. So here, in no particular order and subject to change, are my current favorite books by Kentucky writers: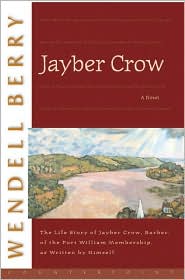 Jayber Crow
by Wendell Berry. The closest you'll ever come to reading a river.
Buffalo Dance: The Journey of York
poems by Frank X Walker. The story of York, William Clark's slave and a member of the Lewis and Clark expedition, told through York's own, beautifully imagined, voice.
The Coal Tattoo
by Silas House. The sisters in this novel are an Applachian
Sense and Sensibility
pairing, but the story is House's own and very Kentuckian: relationships lost, broken, and mended; drinking; baptism; coal; land rights; and religion.
The Mother on the Other Side of the World: Poems
by James Baker Hall. I have a feeling, from the readings I've been to, that
anything
by this former Poet Laureate of Kentucky is good poetry; this just happens to be the book I have right now.
The Bean Trees
by Barbara Kingsolver. I'm sad that I haven't read more by Kingsolver because the characters in this novel are so well-drawn. I know that Kingsolver is no longer in Kentucky, but there's no denying the Kentucky influence here.